Medicare Part DPrescription Drug Coverage
Medicare Prescription Drug Coverage - Part D
Medicare Part D is the prescription drug coverage available to everybody with Medicare. It works together with original Medicare coverage known as Part A and Part B which cover hospital and doctor costs, or with Medicare Advantage coverage known as Part C which operates more like a HMO or PPO plan. To get Medicare prescription drug coverage you must already be enrolled in a plan that is approved by Medicare. There are two ways to get Part D coverage through two different types of Medicare plans. The first way is through a Medicare Prescription Drug Plan, sometimes called a PDP, which is essentially an additional plan added on to your original Medicare Part A and B coverage. The second way is through a Medicare Advantage Part C plan which includes prescription drug coverage. These plans are typically referred to as MAPDs.
How Much Does Medicare Prescription Drug Coverage Cost
Once you enroll in a Medicare plan and add prescription drug coverage you will make monthly payments throughout the year. In addition to monthly premiums there are other costs you may be responsible for including covering a yearly deductible, copayments or coinsurance, costs in the coverage gap, costs if you get extra help, and costs if you pay a late enrollment penalty. The actual costs will vary and depend on factors such as the kinds of drugs you need, the prescription drug plan you choose, whether you go to a pharmacy that is in your network, whether the drugs you use are a part of your plan, and whether you are eligible for extra help from the state. So while it is impossible for us to quote exact costs we will provide averages later in this article.
Review Your Medicare Part D Options
With so many options and so many different ways to get coverage many seniors find this entire process to be overwhelming and confusing. Health Insurance Online can connect you to an agent who will help you identify your options and walk you through the process. First select your state:
2012 Overview of Medicare Part D
The following information and data is from the Kaiser family Foundation Medicare Policy report dated October 2011. In 2012, the number of Medicare Part D stand-alone prescription drug plans offered nationwide will decline as a result of mergers between plan sponsors and actions taken by CMS to discourage plans with low enrollment. Even with these changes, the average Medicare beneficiary will still have a choice of 31 PDPs in 2012 and most will also have access to several Medicare Advantage drug plans. On average, plan enrollees who remain in the same plan will see a premium increase of about $1 per month, but the amount and rate of increase will vary across plans, and about one in four PDP enrollees will experience a premium reduction for 2012. Beneficiaries receiving low-income subsidies will have a similar number of plans available to them for no monthly premium, although one in four LIS beneficiaries will need to shift plans between 2011 and 2012 to avoid paying a premium. The majority of plans offered in 2012 will offer no gap coverage beyond that which is required by the Affordable Care Act of 2010, underscoring the importance of the provision of the health reform law that is gradually phasing out the Medicare Part D "doughnut hole" by 2020.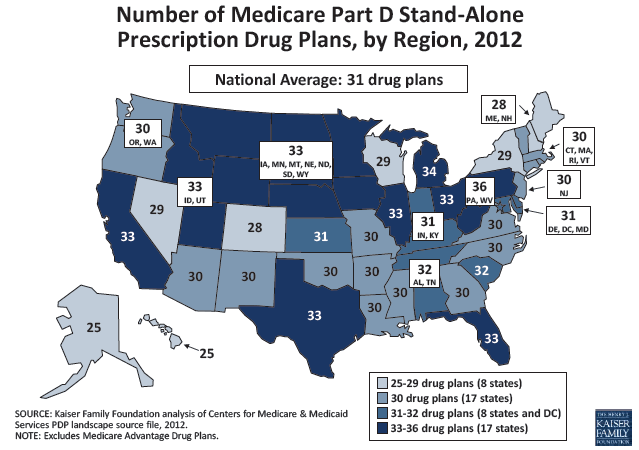 Monthly Medicare Part D Premium Projections for 2012
The projected average monthly PDP premium will be $39.40 in 2012 (weighted by 2011 enrollment, assuming beneficiaries remain in their current plan. This is a 4 percent increase ($1.44) from the weighted average monthly premium of $37.96 in 2011, and a 52 percent increase from $25.93 in 2006, the first year of the Medicare Part D drug benefit. CMS reported a small decrease (4 percent) in the average premium for standard Part D coverage offered by PDPs and Medicare Advantage drug plans between 2011 and 2012; the increase reported here is based on all PDPs only, excluding Medicare Advantage drug plans, and includes PDPs offering enhanced coverage, which typically have higher premiums.
All beneficiaries who reach the coverage gap, or "doughnut hole," in 2012 will pay less than the full cost of the price of their drugs, as a result of changes made by the Affordable Care Act. For 2012, manufacturer prices for brand-name drugs purchased in the gap will be discounted by 50 percent (with enrollees paying the other 50 percent), and plans will pay 14 percent of the cost for generic drugs in the gap (with enrollees paying 86 percent). In 2012, the coverage gap begins after an enrollee incurs $2,930 in total drug spending and ends after an enrollee has spent a total of $4,700 out of pocket (or $6,658 in total drug costs under the standard benefit). At that point, catastrophic coverage begins, where enrollees generally pay only 5 percent of drug costs.